Network Design & management group
provides web enabled remote connectivity solution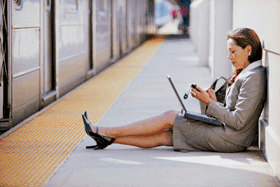 Web enabled remote connectivity.
GraphOn's GO-Global software is the perfect application publishing solution for the small- to medium-sized business, departmental deployments within the large enterprise, Independent Software Vendors (ISVs), and Value Added Resellers (VARs). Now itís a snap to Web-enable existing applications for seamless, cross-platform access from any device over any connection ó no strings attached
The Solution is GO-Global.
The GO-Global product family reduces the complexities of application publishing, deployment and management. The family consists of GO-Global for Windows which publishes Windows applications, and GO-Global for UNIX which publishes UNIX and Linux applications.
GO-Global is the simple server-based computing solution with easy user administration. Application problems can be solved in a central location, not at the individual user locations. GO-Global eliminates the need for cumbersome, complex software infrastructure such as Citrix MetaFrame, Microsoft Windows Terminal Services, or local X Server software. And unlike other solutions that dictate a new application management infrastructure, GO-Global has been designed to work seamlessly within your current environment. So whether you want to publish just a single application or more, GO-Global is the way to go.
Application Management Made Easy.
Deploying, administrating and maintaining traditional distributed applications can be costly and time-consuming. GO-Globalís server-based approach saves time and money. And unlike some other application publishing solutions, GO-Global publishes only the applicationís user interface, not the entire desktop. This increases efficiency and performance, lowers bandwidth consumption, and lowers your TCO.
GO-Global is totally invisible to your users. GO-Global Web-enabled applications look and feel exactly the same as natively running applications. No special training is required. And as an ISV or enterprise, you can private label the solution to promote your own branding, while retaining the rich look and feel that your users expect to see.
Designed with Your Security in Mind.
Distributed applications open up potential security exposures. Thatís why GO-Globalís unique architecture has been specifically designed to retain your mission-critical applications and sensitive data securely on a central server behind your corporate firewall. Whatís more, all GO-Global transmissions are fully encrypted.